Year 1 (Class 4)
Welcome to Class 4!
Mrs Moore
Hello Year 1 children, parents and carers,
We understand that lots of you will be learning from home in the coming weeks, so we will be using this class page and our Year 1 twitter page @smaaayear01 to keep in touch with you. We will post activities your children can complete at home, along with support and guidance.
You can access the following web pages for some extra practise.
https://www.topmarks.co.uk/maths-games/hit-the-button
https://www.topmarks.co.uk/maths-games/daily10
http://www.bbc.co.uk/bitesize/ks1/maths/
http://www.bbc.co.uk/bitesize/ks1/english/
http://www.bbc.co.uk/bitesize/ks1/science/
http://www.bbc.co.uk/schools/primary/history/worldhistory/
Also, while you are at home remember to try and keep as active as possible! Joe Wicks (the Body Coach) will be holding live PE sessions on his You Tube channel every morning at 9 o'clock!!! You can access these at any time-it is a great way to start the day!!! 🙂
It is very important to stay calm and mindful during this time. Go Noodle have some great mindfulness activities you can do indoors. Simply search 'go noodle mindfulness' on YouTube and you will find some short activities.
Finally, please keep scrolling down for our weekly tasks. Here we have some exciting ideas and mini lessons that you can complete with your child each week.
Take care everyone,
Mrs Moore
I would like to wish everyone in Class 4 a warm welcome to our class page.
I look forward to all the fun activities, adventures and learning we will be exploring together in the coming months.
If you need to speak to me or have any questions or concerns, please do not hesitate to contact me.
---
At St Michael and All Angels School we are a Christian Community where everybody is valued and recognised for their unique contribution. We provide a child-centred education in a positive learning environment in which all children may reach their full potential. The Gospel values of love and respect are at the heart of our partnership with parents and carers, Governors, the parish and wider community.
In Class 4 we have been learning about what our mission statement means to us… How can we live it out?
Christian Community
In Class 4, we gather together to say our daily prayers.
We plan and take part in daily Collective Worship.
We explore RE through Come and See by listening to scripture, singing songs and talking about stories from the Bible.
We love and care for one another.
Valued and Recognised for our Unique Contributions
We recognise that we are valued by celebrating our achievements together in class and as a school community through the Gold Award.
We cherish each other's unique talents and strengths.
Child Centred Education
Through our topics, we discuss what we think, know and wonder about. We talk about and plan our learning journey.
We take part in WOW events to bring our curriculum to life.
Positive Learning Environment
We have a wonderful classroom where we can learn, share and have fun!
We love to display work that we are proud of.
Gospel Values of Love and Respect
We follow our class and school rules by recognising good and bad choices.
We live in the light of Jesus by loving and caring for everything God created.
Partnership with Parents, Carers, Governors, the Parish and Wider Community.
We enjoy sharing our celebrations with Parents and Carers.
We celebrate at church with our Parish Family.
Helping others in the Wider Community and supporting local charities.
---
Year 1 Curriculum Map
All children will have free milk and fruit every day.
Homework and Home reading
Homework will be given out every Friday.
Home readers will be changed each week. Your child will have been given a day to bring their book back to school. It would be helpful for you to write a comment. Also, we expect your child to draw a picture about the story and write a sentence if possible.
Weekly Tasks week beginning 6.4.2020
Dear Parents, carers and children,
We hope you are safe and well. We are missing you all and thinking about what you are doing at home with your families. We thought we would give you some activities to keep you busy this week. Have a look and have your best try. We would love to see your work so please use twitter or our school email to send photos. Remember, to help you stay safe online, please don't put your full name or send a picture of yourself to us or on twitter.
Last of all, please stay indoors and look after each other.
Thank you for your support.
Year 1 staff.
Maths
With an adult, have a look at the problems on the link below. You can work them out on paper or in a workbook if you have one.
English
Click on the link below to see your message in a bottle task. Remember to use your phonic knowledge to spell words.
RE
It's Holy Week!
RE task week beginning 6th April
Art/Spanish
Spanish Easter art activity year 1
Science
Test your knowledge year 1!
Science Task week beginning 6th April
Geography
Can you name the countries and capitals of the UK? Click below to find out!
Geography Task week beginning 6th April
PE
You can have lots of fun with this one!
Weekly Tasks Week Beginning 30.3.2020
Maths
https://whiterosemaths.com/homelearning/year-1/
LESSON 1 ACTIVITY WEIGHT AND MASS YEAR 1
LESSON 2 ACTIVITY MEASURE MASS YEAR 1
LESSON 3 ACTIVITY COMPARE MASS YEAR 1
LESSON 4 CAPACITY AND VOLUME YEAR 1
LESSON 5 MEASURE CAPACITY YEAR 1
English
The link below, noughts and crosses, has the resources needed for Day 1 to 5. I have also copied and pasted most of the material to go with each day's lesson just in case you have any problem opening the link. Don't worry if you are not able to print out the pages referred to, just make notes in you exercise book or discuss your ideas with a family member.
Day 1
Read the Instructions for Playing Noughts and Crosses
---
Instructions for Playing Noughts and Crosses
Aim: Draw three in a row!
Equipment:
Pens or pencils
Paper
Instructions:
1. First, draw a simple grid like this on a piece of paper
2. Next, choose one player to begin
3. Then let that player decide to be either noughts (O) or crosses (X).
4. Now take it in turns to draw either a nought or a cross
somewhere on the grid
5. Keep going in turn until….
…someone has three of their shapes in a row!
---
Tasks
1. Were the instructions easy to understand? Why? Or why not? Discuss.
2. Follow the instructions and play a few games of noughts and crosses against someone at home. Who won?
3. Get familiar with the key features of sets of instructions
Read and discuss the Key Features of Sets of Instructions.
Use different coloured pens to circle all the listed features you can
find on the Instructions for Playing Noughts and Crosses.
Day 2
Follow instructions
Follow the Instructions for drawing a pigeon (on resource link or see below).
---
How to draw a picture of a pigeon
You will need:
• A pencil
• Some paper
1. First draw a circle near the top of your paper a bit bigger than a 50p (head).
2. Then put another circle inside that circle (eye).
3. Then make another circle inside that circle and colour it black (pupil).
4. Next draw 2 straight lines down from the first big circle (neck).
5. Then draw a straight line from the right side of the neck to make an L shape (back).
6. After that draw a curved line from the left side of the neck (tummy).
7. Then draw a wing shape.
8. Then draw 2 lines for the legs.
9. Next add the feet and the band on the neck.
10. Finally draw 2 small triangles for the beak.
---
Show your picture to a relative and explain what you did.
Can you give a family member instructions on how to draw something. How about a dog? Use the sequence words – first, next, after that, then and finally.
OR
Follow a recipe's instructions to make something yummy in the
kitchen.
Day 3
Can you identify instructions? Tick the sentences that are instructions.
Here is the link or you can see the sentences below.
Can you identify instructions?
Sentence Tick or cross?
It's a beautiful day today.
Can I play with Sid?
Go to the shops for me.
Buy two packets of biscuits.
I like biscuits.
Why do we need two packets of
biscuits?
Give one to Sid!
Do I have to?
Yes, or he will be sad.
Be quick and do not stay out too late.
Day 4
Write a set of instructions
You could write a set of instructions for brushing your teeth, playing a game or baking a cake.
o You can use the Instructions template if you can print them or just write them on lined paper.
o Keep referring to the Key Features to check that your instructions are really good.
OR
Read the instructions for other games you have at home or choose a game you already know how to play and teach a member of your family how to play the game giving clear instructions.
Day 5
Oh no! What a mess. The sentences are all jumbled up!
Reorder the jumbled instructions for How to get ready for sleep. They are on the resources link or pasted below.
How to get ready for sleep
Afterwards, listen to a bedtime story.
Next, brush your teeth and hair.
After that, snuggle into bed and cuddle your favourite soft toy.
First, undress and put your clothes in a neat pile.
Finally, let an adult turn off the light so you can go to sleep.
Then, enjoy a hot bath or shower.
Then, put on clean pyjamas.
SPAG
Lets focus on our set 2 sounds this week!
ay – 'may I play?'
ee – 'what can you see?'
igh – 'fly high'
ow – 'blow the snow'
oo – 'poo at the zoo'
oo – 'look at a book'
Can you practice some words with these sounds in?
What can you spot objects around your house that is spelt using these sounds?
PE
Lesson 1

– Let's continue to improve our throwing and catching skills. See the attached file for some fun activities.

throwing-and-catching-home-learning-tasks
Lesson 2

– Have fun developing your fundamental movement skills while enjoying some Easter activities. Hop to it and click on the attached file below!

Happy Easter!

Also, if you would like to have some calm yet active screen time, why not check out Cosmic Kids Yoga. There are sessions to appeal to all with a range of themes from Going on a Bear Hunt to Harry Potter, Frozen, Trolls and Moana!

https://www.youtube.com/user/CosmicKidsYoga

Here's a link to the Trolls Cosmic Kids Yoga session.
Science
Animals including Humans
Look at this PowerPoint to help with the task that follows.
download this sorting activity.
Now draw your favourite animal off the sorting sheet and list 3 facts about that animal.
History/Geography
Facts about the UK.
Look through this PowerPoint first to gather the information you will need.
Facts about the UK
Name the 4 countries in the UK:
1._____________________________
2._____________________________
3._____________________________
4._____________________________
Name The capital cities:
1._____________________________
2._____________________________
3._____________________________
4._____________________________
What is the population in the UK? ________________________
Name a place in England:
_____________________________________
What is the Queen of England called? ____________________________
What currency is used in England? _________________________
Draw the Union Jack flag.
RE
Lesson 1
Lent is a time to look at the ways in which we can change and live like Jesus. People can change and become more loving, kinder and more helpful.
Lent is a time to pray, to give up something and to do something good, so we can be more like Jesus.
Write down on a leaf what you have given up for Lent, or a good deed you have done for Lent. You could do this as a family and maybe make a tree displaying all of your leaves.
Lesson 2
Lent is a special time when the family of Jesus think about making a new start. There are occasions when everyone wishes they could make a new start. They wish they could do things differently and not have said or done something unkind, hurtful or silly. It is a time when the family of Jesus try to change and be more like Jesus.
Talk with your family about how you can make a new start?
Is there something that you are sorry for? What could you do differently?
DT/Art
Have a look at this beautiful picture by Henri Rousseau. It is called 'The Waterfall.'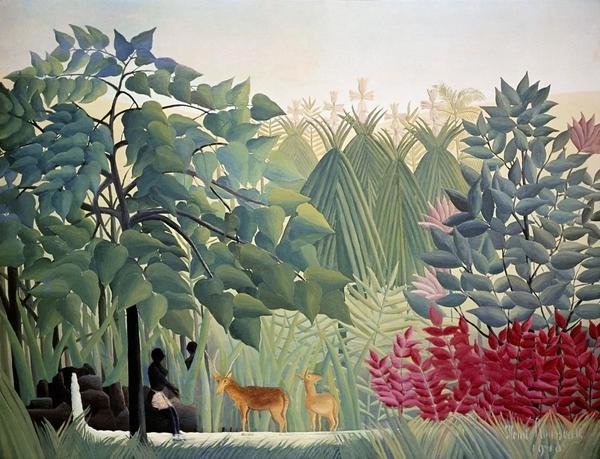 Now can you recreate it painting thick and thin lines with your paintbrush?
Upload your paintings to twitter and tag us so we can see some of your lovely designs!
Computing
If you can download the 'Easy Studio App'. Have a go at designing and making your own animation. Send your animations through to our twitter page – we can't wait to see the exciting things you have put together!!!
Don't worry if you cannot download the app – simply draw your animation on paper and send it to us the same way.
Music
Listen to some Latin music;
'Livin da vida loca' by Ricky Martin.

'It had better be tonight' (Latin/Big Band) by Michael Buble
Discuss the pitch (high or low), tempo (fast or slow) and the pulse (beat).
But most importantly…..dance along and enjoy the music!!!! 🙂
PHSE
Task 1
How can you be a good friend?
list 5 things that make you a good friend.
1.
2.
3.
4.
5.
Task 2
Draw your own rainbow and put it up in your front window saying 'after every storm comes a rainbow' next time you are out on a family walk see how many rainbows you can see. Remember make your rainbow as creative as can be.
Creative Task
Have a go at making your own Easter Garden! You can be as creative as you like – there are lots of great ideas online. You could keep adding to your garden over the next few weeks as we lead up to Easter.
Don't forget to tag us in your posts on twitter so we can see your amazing designs!
We really appreciate your support and look forward to working with you and your child as the year progresses.