Reception (Class 1)
Welcome to your reception class page!
Our Staff:
Teachers – Miss Taylor and Mrs Tracey
Teaching Assistants – Mrs Hitchmough, Mrs Sefton and Miss Hughes.
Parents and carers are free to contact us via the school office should you wish to make an appointment. Otherwise, I am always available for a quick chat at the door at home time.
This slideshow requires JavaScript.
Class 1
Read below to find out all the exciting things we will be getting up to in our first half term.
Weekly reminders
Each Monday we collect £1 which is used to buy snack for your child throughout the week. All contributions are greatly valued to ensure your child has a healthy week at school.
In reception we have access to our outdoor classroom daily to keep us physically active and healthy. We have recently had lots of developments in our outdoor area so are very excited to use our new exciting area and equipment.
PE date will be confirmed later on in the school term. Our school PE kit is blue shorts and black P.E. pumps and a white or yellow polo shirt. We ask that children come to school wearing their yellow tops on P.E day to make changing a little easier.
Please ensure ALL your child's clothing has names on it. As they go through the wash names do tend to fade so please keep checking to ensure that things don't go missing, especially jumpers and cardigans.
This year we have been fortunate to have some wonderful developments in our outdoor area with lots of new equipment and outdoor facilities to use. We ask that children can bring a pair of wellies to use in school and we have full outdoor protective gear to ensure that we can play in all types of weather. We also ask that when children are entering and exiting the playground in the mornings and home time that they do not use or touch equipment as it has been prepared ready for their learning experiences and stay beside their adults to ensure safety.
Outdoors is vital for children's learning and it is we do enjoy getting a little bit messy at times so please ensure that your child has a coat that is suitable to use for messy play such as sand and water especially during the chilly winter months and suitable shoes that they can easily take on and off to make changing into outdoor gear much easier.
Autumn Term One- What will we be learning?
In Reception, our curriculum is determined by the interests of our children. In the first few weeks, children will be settling into daily routines, making new friends and learning about different areas of play. We will enjoy exploring play through our senses and accessing lots of activities to stimulate these.
We will gather in 'Circle Time' groups using our floor book to plan our learning
journeys and talk together about what interests us a
nd what
we want to learn about and explore these areas together. I am very excited to see what path this will take us down.
Alongside this we wi
ll listen to and re
ad lots of familiar traditional tales and enjoy retelling these stories using story maps, puppets and pictures.
Phonics, reading and writing
At SMAAA we learn to read and write using the support of RWInc to help us learn our first set of sounds. In our first half term we will learn all of our single sounds and begin to orally blend these to read words like 'm-a-t mat' and 'b-a-g bag'. We will practice these sounds daily and practice writing these sounds showing interest in how writing works.
We will experience lots of writing opportunities, watching our teachers write and noticing reasons for why we write. We will make marks as we play, pretending to write shopping lists, notes to our friends and learn how to write our names. We will begin to use some of the sounds we know to represent words as we play. We will also enjoy so many stories, poems and rhymes that will will love sharing with you at home.
Number, shape, space and measure
In our first term, we will enjoy learning to recognise our numbers to 10 and then to 20. We will search for numbers in our environment and begin to understand the meaning of numbers. We will explore for example what makes up the number 5- 5 on my house, 5 and 5 makes 10, 5 is bigger than 4, 5 looks like this but can also look like this.
We will explore shapes all around us beginning to identify some and talk about what makes up shapes. We will explore weight, height and capacity through our play experience and enjoy solving problems together.
R.E Come and See
Autumn Term
Topic One-Domestic Church- Family
Myself
In this topic we will learn all about; who we are, where we come from and who is precious to us.
We will listen to God's Scripture:
'God knows me and he knows my name.'
We will think about the Big Question:
Why am I precious?
Topic Two- Baptism/Confirmation-Belonging
In this topic we will explore belonging and the many different places we belong; at home, in school, with friends and family, clubs and importantly our church community. We will learn about the special sacrament of Baptism and Confirmation and understand how we are welcomed by God.
We will listen to God's scripture;
'I love you just as the Father loves me; remain in my love.'
We will think about the Big Question:
Why is welcoming important?
Topic Three-Advent/Christmas-Loving
Birthdays
In this topic we will celebrate the important birth of Jesus Christ and learn about the Christmas story and how people travelled from afar to see the special baby born. We will perform our own nativity play to help us truly understand the importance of this special day.
We will listen to God's Scripture:
'For a child has been born to us, a son given to us; authority rests upon his shoulders; and he is named a wonderful Counsellor, Mighty God, everlasting Father, prince of Peace.'
We will think about the Big Question:
Why do we celebrate birthdays?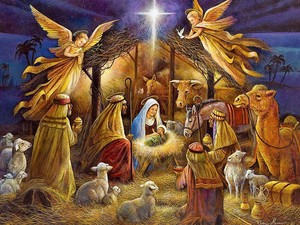 Other faiths
Judaism
We will also learn about another faith Judaism and learn about the festival of Hanukkah, the festival of lights, and how this is celebrated. We will listen to the story of Abraham and Moses, the leaders of the Jewish people and understand the some of the stories they told.
There is soooo much fun to be had in Reception and we can't wait to get stuck in. Read below for some extra tips for things you can be doing at home to help.
What can I be doing at home?
Reading to your child every day! Reading allows children to enter a new world, learn new words, new cultures, new experiences and develops imagination. It provides the chance to question, predict and most of all enjoy!
Find reasons to write. Before going shopping, write down lists of what you will need. Ask your child to write down the first sound of the items, whilst shopping ask children to find the b,b,b bread. Draw pictures and share your experiences of things you have been doing at home and over the weekends. Bring in interesting things you have found- pine cones, interesting leaves (we have had a few bugs in our time.)
Practice recognising your numbers every day and counting out objects to match. Find 1 more and less than numbers and create your own number problems.
Count, count count!
Can you create your own maths problems?
If I have 5 sweets but I ate 1 how many would I have left?
How many beads can you put into the pot into 1 minute?
Have a look on some of these website to help you practice these skills.
http://www.topmarks.co.uk (excellent for mathematical learning)
http://www.ruthmiskin.com/en/resources/parent-tutorial-1-understanding-read-write-inc-phonics/ (all the advice you need for supporting your child's reading and writing)
Look out on pinterest also for ideas for creative games and activities you can be doing at home too!
We encourage parents to practice reading and writing these sounds and numbers daily to ensure the best possible chance of success!
To learn some more about how we learn in Reception have a read below.
Our Early Years Philosophy
'Play is the highest form of research'– Albert Einstein
In reception we learn through play. We have many different areas both indoors and outdoors such as the creative area, reading corner and construction space where we investigate, explore and learn many new things. We also learn to read and write letters and simple words, learn to read and use numbers and create lots of models and paintings which we love to send home to display in our homes!!!
READING and WRITING
In reception we love to mark make and throughout the year we learn to form letters to help us achieve our goal of writing simple sentences. We use our friend 'fred' to help us do this. If you want to learn more about how we learn to read and write click on the link below. http://www.ruthmiskin.com/en/parents
We love to write in school but most of all we love to bring our writing in from home!!! Keep looking out for opportunities to write at home including shopping lists, birthday party invites, letters to family members!!!
'You can make anything by writing' C.S.Lewis
We are all readers!!!
Reading and enjoying stories at home is very important to us. It helps to develop our imagination and creativity!!! What stories do you enjoy reading at home?
'Get reading. Keep Reading. Change everything'.
Messy Play
We also like to make a bit of a mess sometimes! We love to paint, decorate, create and have lots of fun in our role play area. We like to re-enact stories we know and love, play dress up and create models using all different kinds of materials. Any work we do at home can be displayed in our own learning space at school so we can celebrate our creativity in all areas.
How can you help your child reach the ELG?
Writing
Children use their phonic knowledge to write words in ways which match their spoken sounds. They also write some irregular common words. They write simple sentences which can be read by themselves and others. Some words are spelt correctly and others are phonetically plausible.
Can you create your own story book?
Can you write and label a picture?
Can you create a recipe?
Can you write instructions for a game?
Can you write a set of rules?
Reading
Children read and understand simple sentences. They use phonic knowledge to decode regular words and read them aloud accurately. They also read some common irregular words. They demonstrate understanding when talking with others about what they have read.
Can you share your home readers together?
Can you write a simple sentence and read it back using your phonics?
Can you look our for punctuation in your story books?
Can you talk about what you have read to show understanding? Can you answer questions about he story?
Number
Children count reliably with numbers from 1 to 20, place them in order and say which number is one more or one less than a given number. Using quantities and objects, they add and subtract two single-digit numbers and count on or back to find the answer. They solve problems, including doubling, halving and sharing.
Shape space and measure
Children use everyday language to talk about size, weight, capacity, position, distance, time and money to compare quantities and objects and to solve problems. They recognise, create and describe patterns. They explore characteristics of everyday objects and shapes and use mathematical language to describe them.
Can you practice daily counting out objects? Counting forwards and backwards as you walk?
Can you order numbers you can see at home?
Can you find one more or less than numbers you see?
Can you make a collection of objects and find out how many you have altogether? Can you take some away and find the total?
Can you begin to write simple number sentences using a number line to help you?
Let us know what you are doing at home to help your child reach their Early Learning Goal!